Our all-natural, non-GMO beef protein is one of the most easily absorbed available. Simple, clean ingredients every body needs with no added hormones. Plus, it's totally delicious. You will love it!

Check out this video below to learn more about all the benefits of UPP!
Browse our awesome lineup of products!
Dairy-Free
Gluten-Free
Keto-Friendly
No Sugar
Paleo
Protein
Nourish and Recover
Ultimate Paleo Protein (UPP) is made from grass-fed, pasture-raised cows that are free from hormones, antibiotics and GMOs. This processing procedure preserves critical nutrients for our body, including amino acids, vitamins, minerals, and peptides.
We carefully combine the highest quality synergistic nutrients as this leads to optimal recovery and immune support for individuals at any age. Our ORIGINAL protein powder is for everyone — from young to old — for everyday nutrition. Our PERFORMANCE powders are geared towards athletes looking for additional athletic recovery and immune support, and include velositol, which helps fuel muscles post-workout.
Increased Mixability
We've taken the next step in improving the mixabilty of our protein powders. We're proud to use a process called "AGGLOMERATION or INSTANTIZED" with all of our beef protein & collagen peptide products.
This natural process injects water into the collagen & beef protein, introducing more water molecules so when it is mixed with a drink, the water molecules bind more easily with the collagen and beef protein. This leads to improved dispersibility and dissolving, making our products fluffier and less dense.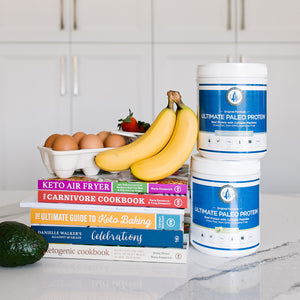 What They're Saying...
"I can't keep it on the shelf. Its a fantastic product, and even our members with extremely sensitive systems tolerate it with no problems at all.
Jonny J, Owner, Crossfit 5885
More Testimonials